Palmtop Publishing
Dodge Detroit Auto Show (NAIAS)
---
Challenge:
For a global-brand client, turn thin air into a powerful messaging medium for a high-profile international event.
Accomplish this in three days and from a remote location.
---
Solution:
Using technology as our paintbrush, create a Digital Marketing Giveaway(TM) - a robust, innovative and beamable custom application for Microsoft Pocket PC and Palm OS handhelds.
Deliver this to the client with an on-site, automated, infrared (IR) beaming delivery system.
---
Approach:
Everything - the handheld applications and the on-site delivery system - must be intuitive and easy to use so that even beginners and the uninitiated can download, navigate, learn from, and enjoy the Dodge Detroit Auto Show applications.
The quest for an engaging, custom-branded solution with quick, flawless execution dictates that we:
Include all client-specified content.
Use the client's brand logo, the Dodge Ram, as the application identifier - this logo appears on the menu screen of each recipient's handheld.
Make the applications color-enabled, graphics-rich.
Include a map of the irregular layout of the event's main exhibit floor.

The map highlights the Dodge exhibit location.

Tone and balance color images for the Palm OS version so that a single application displays images effectively on both grayscale and color-enabled models.

This eliminates the need to create and manage separate applications and minimizes development time and costs.

Strike a balance between the desire for more images and keeping application file sizes small.

Keeping file size in check enables handhelds with limited memory to accept the application; it also keeps file transfer - the "beaming time" - reasonable at under 45 seconds.

Design the applications to keep information "on the surface" at just a few intuitive stylus taps away.
---
Implementation:
The on-site application delivery system must be:
Quick and easy to integrate into the existing Dodge Auto exhibit; simple to install, break down, and transport
Impervious to exhibit hall nightly power downs
Flexible and IT support free
Operating 24 x 7 in unattended IR beaming mode
---
Results:
Within three days, a Palmtop Publishing associate touches down in Detroit, carrying a 12" x 16" case containing the complete end-to-end project.
Our client takes delivery of a custom-branded, innovative and attention-getting turnkey solution.
Smiles, curiosity, amazement, delight!
Post event, we provide the client with statistics, including download counts and times, collected on-site by the POPspot Wireless(TM) beaming stations.
Repeat.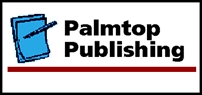 ---
Credits
Design:
Palmtop Publishing
2111 46th Ave SW
Seattle, WA 98116
Tel: 206-923-0901
Fax: 206-923-0902
www.palmtoppublishing.com
Client:
Dodge Division of the DaimlerChrysler Corporation
Location:
Detroit, MI & US Auto Show Circuit
Category:
Trade Shows / Events / Temporary Environments
---
Digital Marketing Giveaway is a trademark of Palmtop Publishing
Pocketgram is a trademark of Aegean Associates, Inc.
OnTap is a registered trademark of Aegean Associates, Inc.
POPspot Wireless is a trademark of Aegean Associates, Inc.