GRAND PRIZE DRAWING
Stop by our booth #731to enter our drawing for a Visor.
One grand prize winner will be awarded. Just bring this card or your registration badge to our booth to be entered.
See us at SEMICON Southwest Booth #731 and enter our Grand Prize drawing.
COME SEE THE TECHNOLOGY GALLERY
Visit Booth #731 at SEMICON Southwest 2001 to see the latest advances in filtration technology for
Chemical
CMP
Gas
Microlithography
Ozone and
Water applications.
Step into our New Technology Gallery to preview the newest products for all your applications.
PDA File Tips
Download
Choose SAVE FILE when prompted by your browser to save the Palm OS(TM) .prc file and the Pocket PC .lit file to your desktop.
Then use the standard Palm/Pocket PC install and HotSync®/ActiveSync® process to move the program to your handheld.
Questions? Don't by shy - call Palmtop Publishing @ 206-923-0901.
SEMICON Southwest 2001 Showguide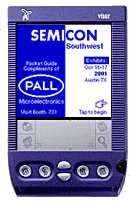 ---
Install one of these handy meeting guides to SEMICON Southwest 2001 and you'll enjoy instant access to:
exhibitors and booths,
conference agenda and schedule,
floor map,
shuttle bus schedules,
Austin hotel guide and map,
SEMI.org special event schedule through 2002,
more.
Enjoy this program, and please share it with your colleagues via a simple infrared beam.
Stop by Pall booth #731 and get beamed for your chance to win a special prize - right there on the spot. See details inside this guide!
---
Click here to visit the Pall Microelectronics web page.
Click here to learn how you can put PDAs to work as your marketing footsolider!
Click here to visit the Palmtop Publishing web page.
See you in Austin!

Palmtop Publishing
2111 46th Ave SW
Seattle, WA 98116
206-923-0901